Buying all the needed supplies before you start the cleaning of your home can put a strain on the budget since store-bought cleaners are really expensive.  On the other hand, they are full of dangerous chemicals that elevate the risk of serious health issues.
Dr. Tim Yeomans, the Centre Manager for Shannon Applied Biotechnology Centre, explains the possible risks:
"Consumer usage of cleaning products can lead to irritation of the airways, potentially exacerbating already existing asthma. Occupational exposure can have more serious consequences with consistent exposure to chemicals from cleaning products being responsible for the development of work-related asthma.
Exposure to cleaning products can occur routinely on the hand and arm. In general, any reaction is likely to be as a result of chemical sensitivity rather than an allergy.  Approximately 80% of contact dermatitis is a result of an irritant reaction. Additional symptoms may include dry cracked scaly skin, bumps and blisters, swelling, burning or tenderness."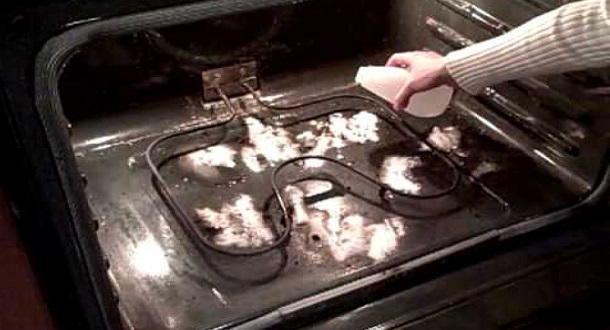 Therefore, we advise you to pick up a more natural approach and prepare your cleaning products at home. It is simple, most of the ingredients are probably already in your kitchen, and you will save a lot, your money, and health.
Cleaning the oven can be a demanding and challenging task, but not anymore! Instead of buying expensive oven cleaners to get rid of the baked-on food, you should start making your own cleaning mixture that gives excellent effects!
Here is all you need to do:
Ingredients:
1 cup vinegar
1/2 cup lemon juice
1/4 cup dish soap
1 1/4 cup water
Instructions:
In a spray bottle, mix all the ingredients listed above, and then spray the mixture all over the inside of the oven. Leave it to act a bit, and then wipe it clean!
This will make your oven shiny and sparkling like new!
Source:https://shareloveinspire.com/this-homemade-oven-cleaner-is-better-than-name-brand-ones-and-you-already-have-the-ingredients/