Whenever someone mentions cleansing or detox an alarm rings in our head and we immediately think of all the commercial detox products which are almost always pumped with sugar and empty calories. This, as you may assume, causes more harm than good to your body, and just disrupt your weight loss process. You believe you're doing something good, and then wonder why there aren't any results.
Moreover, you already have organs responsible for toxins elimination like your liver and kidneys so they should be doing their job right? Well, it doesn't necessarily have to be like that. In this modern day and age, we're flooded with all kinds of toxins and chemicals, flooding our body with toxic substances and making it difficult for our organs to perform their function. So sometimes it's good to give your liver and kidneys a boost, but not in the form of commercial products but something way more natural and health beneficial.
We present the detox water or infused water which will transform the way you look at cleansing forever. Instead of buying those expensive sugary drinks start your day with a refreshing veggie or fruit infused water. This will jumpstart your metabolism, support your liver function and give you all the nutrients your body needs, all in a jug of delight. Also, you can combine different ingredients that offer different health benefits and aside from burning fat and cleansing your body from toxins, take advantage of many other benefits.
TAKE A LOOK AT SOME OF THE BEST DETOX WATER RECIPES BELOW.
CUCUMBER LEMON WATER
Ingredients:
Half a cucumber
one lemon
A couple of mint sprigs
Water
Preparation:
Rinse the lemon and cucumber and slice them. Rinse the mint leaves as well. Add all the ingredients in a water jug and leave it overnight to infuse. Consume the water the next morning.
Benefits:
According to nutritionist Meryl Pritchard of Kore Kitchen lemons help to kick-start digestion while flushing out toxins. The vitamin C will also brighten up your skin.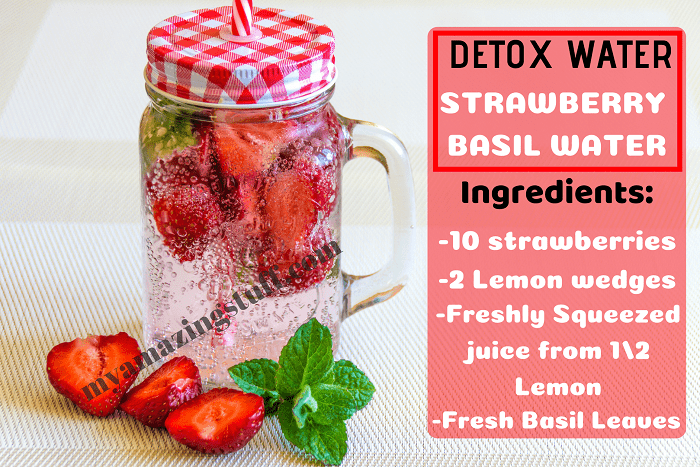 STRAWBERRY BASIL WATER
Ingredients:
10 strawberries
2 lemon wedges
Freshly squeezed juice from 1/2 lemon
Handful of fresh basil leaves
Preparation:
In a gallon of purified water add all the other ingredients and stir gently with a wooden spoon. Store it in the fridge for 4 hours and consume.
Benefits:
Strawberries abound in potassium, antioxidants, vitamin C, and a number of other nutrients while basil has anti-inflammatory and antibacterial properties.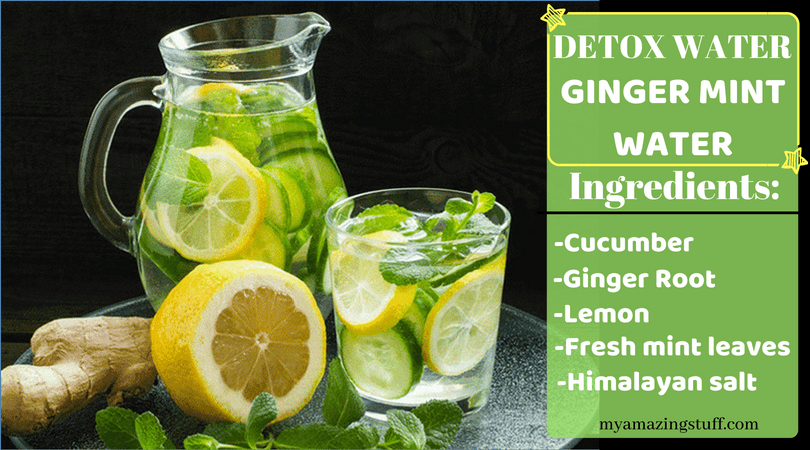 GINGER MINT WATER
Ingredients:
1 cucumber
2 inches ginger root
2 lemon or lime wedges
12 fresh mint leaves
A sprinkle of Himalayan salt
Preparation:
Just repeat the same process as with the previous detox water.
Benefits:
Ginger is an excellent spice with an number of health benefits, including relieving upset stomach and a sore throat.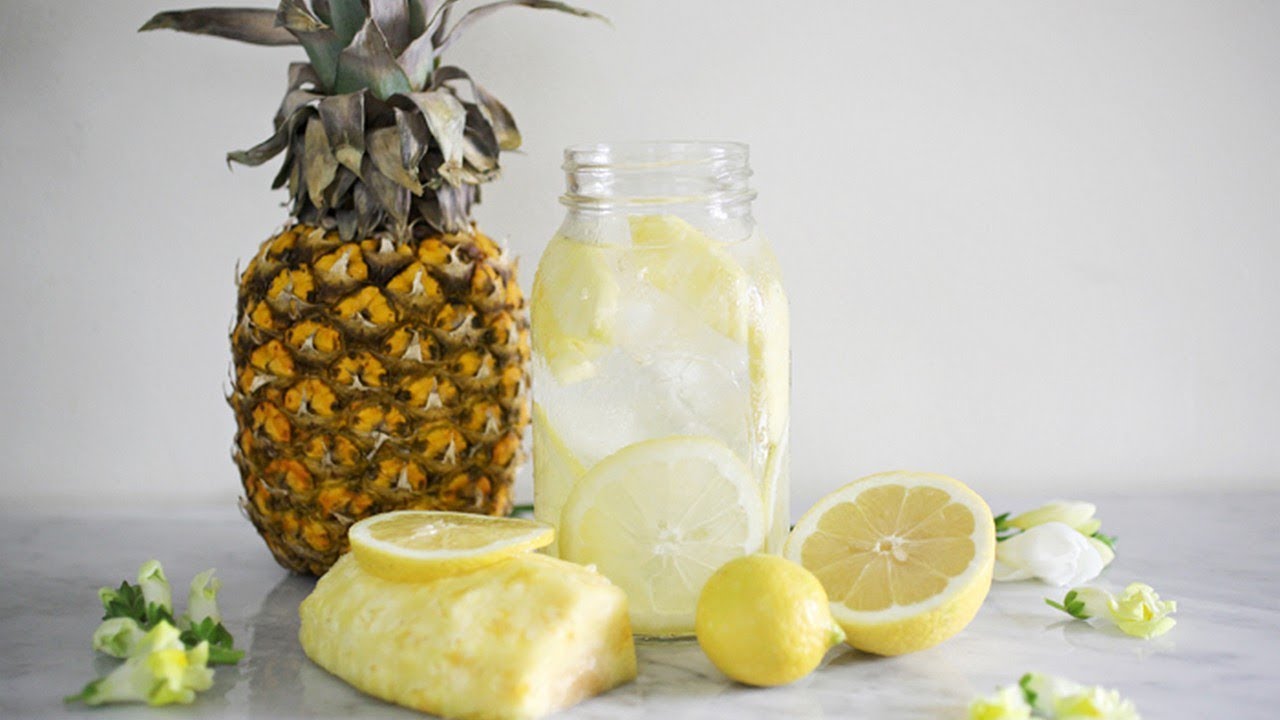 MANGO, LEMON, AND PINEAPPLE WATER
Ingredients:
Cubed pineapple and mango
A few lemon wedges
Water
Preparation:
Mix everything together and enjoy.
Benefits:
Pineapple is loaded with of bromelain, which is an enzyme with excellent anti-inflammatory properties. Mangoes, on the other hand are great for digestion and de-bloating your stomach.