Many women who have passed the golden threshold of 50 years, when they go shopping and see a nice dress, they wonder: Is this for me? Will it fit me? How should I dress a woman after 50 years, and more? The truth, the answer to these questions depends very much on the self-esteem of the lady in question.
Unfortunately, many women go to extremes. Some are so resigned to old age that they begin to wear neutral and dark tones as if there is no alternative. Others cling so much to their best days, thinking that tops, short skirts, and high-heeled shoes will stop the passage of time …
Fashion for women over 50 years
A woman after 50's has the experience of life, so she is full of confidence and tranquility. To look stylish, it is enough to complement a good rejuvenating hairstyle with the appropriate garments for each one. Believe me, the result will be even better than plastic surgery.
Fashion is just a series of trends that can come out in the public light and become part of the collective. For some reason, sometimes has to see the influence of some important image, such as a celebrity, although sometimes it seems that fashion comes out of nowhere and suddenly everyone wants to wear the same garment or hairstyle.
If something has been proven in the fashion world, is that it is cyclical, that is, it always goes back where it started, and that is why the years will pass and we will continue wearing at some point a wide boot or a high shot, as in past decades.
However, an important detail to consider when following a fashion or, when we think of fashion clothing, is that it seems to be made for only a generation, that is, the youngest, since an older woman could think that these clothes are not meant for her.
Follow these tips to dress up after 50's 
Although large necklines and short skirts are not clothes that look good on an older woman, this does not mean that she has to be forced to look scruffy, out of season and poorly groomed.
We simply have to adopt the fashion to the age that one has, so we can continue enjoying the trends, but suitable to us, since age is not an impediment to look good.
Here we leave several tips for you to wear clothes without shame, no matter how long you left your 20's behind: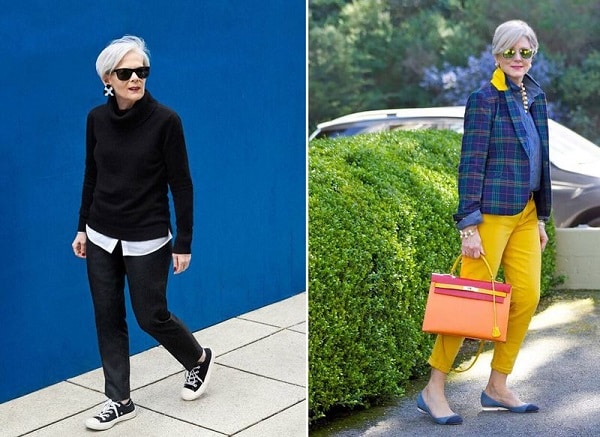 The sneakers are not just for young girls. The ladies can combine them with a loose shirt, on top of which they can wear a sweater of the whole color, with a pair of pants with style. All these correctly selected accessories will make you look stylish and youthful.
The shorts, a shirt, and a jacket will create an excellent image to walk around the city. You can also use this set to go for a business lunch or just a meeting with friends. A striking bag will complete your image.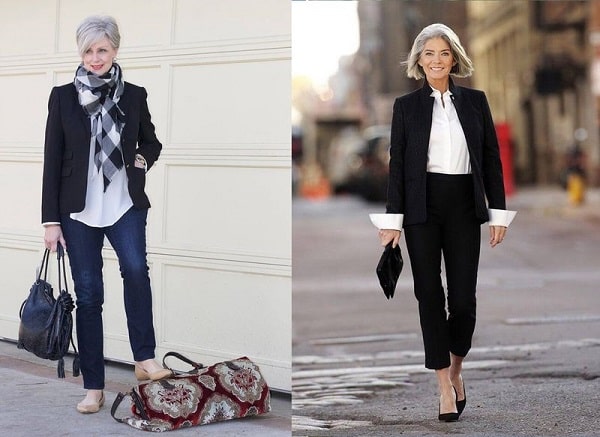 The jeans are not at all contraindicated for ladies in the 50's and over, quite the opposite. Just combine them with a light shirt and a simple jacket, and you'll be at the peak of popularity.
Black is undoubtedly a universal color, but it does not have to dominate in the dressing room. There is also no reason to reject saturated colors strictly … Of course, it is necessary to make sure that the selected color does not visually increase the age. If you are a lover of dark clothing, you should choose light-colored accessories (bags, shoes). Remember that if your clothes look boring, it will make you look even older.
And before finishing, a final tip:
All ladies, regardless of their age, to dress well need to have in their lockers a set of basic garments, such as skirts, pants, blouses, shirts, jackets … It is important to have good taste and style, to know how to combine.
Excessive colors and floral prints on clothing should be avoided. But, the most important thing is the state of mind and self-esteem. So, listen to yourself, enjoy the beauty and be happy!
If this article was useful, please share it on your social networks. Maybe some friend of the golden age will thank you!